Top 5 Tips to Create an Email Drip Campaign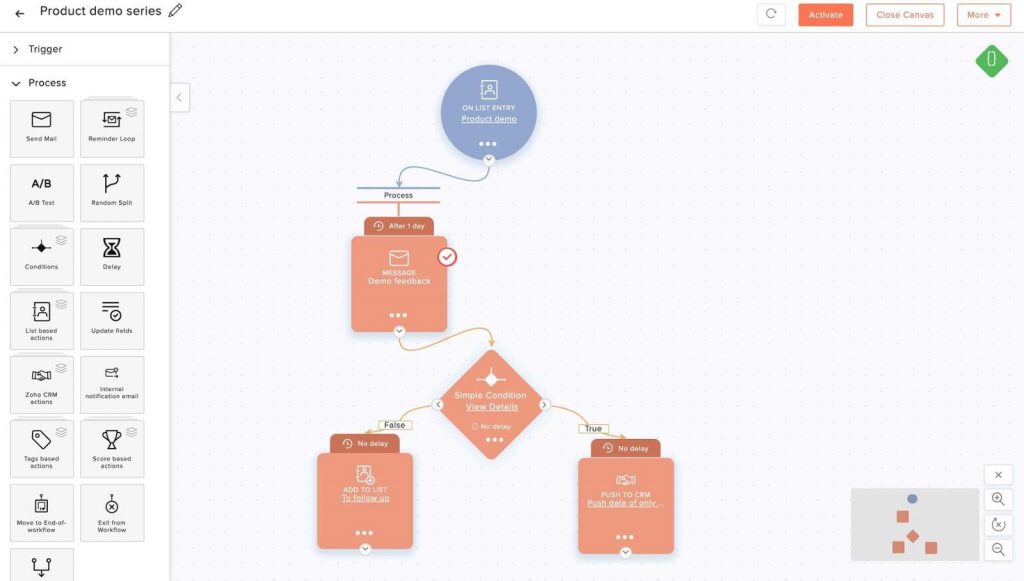 Author : Veethee Dixit
Why use an email drip campaign
In marketing, campaigning is all about establishing maximum contact with the new and existing customers. For converting even one prospective contact, it takes multiple touch points, after which that prospect turns into a customer. To connect individually and repeatedly with each customer numerous times can seem like a very daunting and overwhelming task! For this purpose, new-age marketers use a drip campaign with the help of a autoresponder. A drip campaign is a time and cost-effective tool for reaching out to prospects and customers. 
                                         Zoho Campaigns helps in creating visual autoresponders and workflows
                                                Credit : The blog featured image is taken from zoho.com website.
Meaning of an Email Drip Campaign
A drip campaign is a process of sending a sequence of email messages to different customers based on a pre-set condition or trigger. To set up a drip campaign, you would need an autoresponder system that has a list of email ids to shoot mails set at a particular frequency. Where would these lists of emails come from? 
The email contacts are established from people who log in to your website or sign up when putting in an inquiry. You also get data of email ids when people sign up or subscribe to your newsletter. Using these emails, you can shoot emails at regular intervals with new and upcoming content. This process is called "dripping" into a customer inbox. 
Now that we know what drip campaigning is let us look at some useful and smart tips for creating an efficient drip campaign. 
Tips For Creating an Effective Email Drip Campaign
Creating a drip campaign in the right manner is very important. If it doesn't appeal to the audience, it will not yield the kind of results that you are looking to achieve with this tool. Let us look at five pro tips to implement a successful drip campaign. 
Clear goal setting
When you implement a drip campaign, have a clear goal or objective in mind. This clarity of thought will help you set the right target audience for your campaign and construct your content in a way that it is appealing to that audience that you have selected. Campaign goals must include the following points as given below:
1. Prospects must be communicated and educated about your product portfolio and SLAs
2. Maximizing sales to the existing list of customers and tracking the revenue received from this goal
3. Market yourself as an SME on any product that features in your portfolio
4. Aim to build on existing relationships by creating engaging content and interacting with them regularly.
The value proposition of your product lines
In today's world of marketing, it is not just about how well you engage, but also the value you create in your interactions with your customers and the differentiating factor in your product campaign. Some of the useful value-based content that you can send to your customer is listed below:
1. Give an option to download a whitepaper of topic which is relevant to your industry
2. Links to webinars, podcasts, articles, and blogs which are in sync with the latest trends
3. Calendar snapshot of industry events, surveys, and happenings
4. Published papers and journals make for an intellectual and class apart idea
Make subject lines enjoyable
The first thing a reader looks at in his email is his/her subject line. If the subject line doesn't interest him, he will delete it, ignore it or push it into spam; either of which does not help your campaign goal. Make subject lines peppy, exciting, and catchy.  Subject line should start with important takeaway. Use words like "limited time offer," "offer expires in 24 hours" etc can create a sense of urgency and such gimmicks generate interest to the reader, and they give your email a look and explore what you have to offer. 
Personalise
People respond to people, not organisations. Human beings don't love anyone as much as they love themselves. The key to being personal with someone is to address them with their names. The auto-generated email can be formatted and structured in a way that it captures and sends the email with individual titles as a greeting. 
An email from the company's founder, director, or even a sales representative goes a long way rather than a generic mail sent by a company. 
Choosing the right autoresponder
Autoresponders build the backbone of all your marketing campaigns, especially a drip campaign. In the market, you may find a lot of options for a good autoresponder. Choose one who has basic features, but meets all your needs. Some of the features that must be included while selecting one are as given below:
Must have a reliable and guaranteed delivery platform

Must have a follow-up feature 

Must have a round the clock customer support

Must have a dashboard to analyse reports and pull statistics of your campaign   
Bonus Tip!
Visuals work better than text
The world moved from articles to blogs to Instagram snapshots. Now the trend is vlogs or video blogging, Instagram stories, and email marquee videos. A reader today, because he is subjected to so many visual references and content, he is used to it. It is a convenient way for him to understand. You have to take advantage of this tactic and turn into a content piece that is not just informative but also visual. Visual content is exciting and understood better by the reader as he sees what you are trying to put across without trying too hard to guess or understand. 
Summing It Up
Drip campaigns are a lot of work, to begin with. Finalising an autoresponder, setting it up, doing a test run, creation of original content pieces and the means to engage customers at the starting point – the more time it takes to set up, the easier it gets later once you have done the initial grunt work. The results, if done right, are outstanding, which is the reason, it is used globally as a very potent marketing tool. 
If you need any consultancy around setting up your B2B drip email campaigns (follow up series, welcome series, loyalty building, product reviews) Postbox Consultancy Services can help.  We have a team of experts who can help you.