MassMailer Review: Native Salesforce Email Marketing App for Large Campaigns

There is no doubt that Salesforce is an excellent CRM tool, but its mass emailing features are rather limited which can make it difficult for marketers to run large-scale email campaigns. Salesforce limits the number of emails you can send in a day to just 5000. Moreover, the email analytics and tracking capabilities offered by Salesforce are also rather basic and limited.
This is exactly where native applications like MassMailer can help. MassMailer allows you to send unlimited emails to unlimited contacts in Salesforce in order to improve your marketing campaigns and help drive better results.
But is MassMailer worth your time and money? Let's dive into our detailed review:
What is MassMailer?
MassMailer is a native Salesforce app that allows you to bypass email sending limitations set by Salesforce CRM and send unlimited emails. Ideal for companies of any and every size, MassMailer simplifies email marketing with features like sending mass emails, consolidating contacts and leads right within Salesforce, creating email templates, generating in-depth analytics reports, real-time monitoring, improved email deliverability with dedicated IPs, and much more.

Features of Massmailer
Integration with Salesforce
The biggest USP of MassMailer lies in the fact that it isn't a standalone email marketing solution. It is a native Salesforce app that is built to be used within the Salesforce CRM environment. That means you don't need to spend hours trying to integrate it with Salesforce just to export your data and get started. You can find MassMailer among other Salesforce apps and directly install it.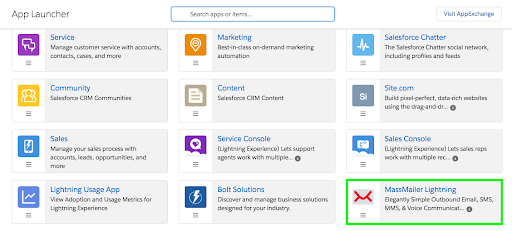 Ease of use and setup
You can install MassMailer just like any other Salesforce add-on and get started right away through your Salesforce account. Since you are using the same CRM platform, it significantly decreases the learning curve. Also, not switching back and forth between a CRM and emailing tool saves time as well.

When you first install MassMailer, you will be shown a setup wizard to configure all the settings including account settings, tracking settings, email settings, UI settings, user settings, and editor settings.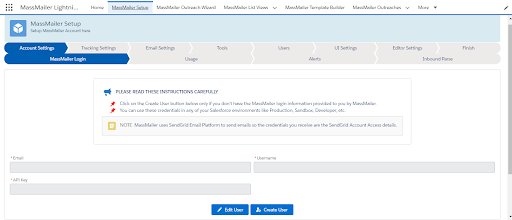 Email deliverability
Sender reputation is extremely important when you are sending out high-volume email campaigns. A bad reputation cannot just lead to failed email campaigns but it can also lead to your IPs getting blacklisted. Moreover, once your reputation score takes a hit, it can take a lot to fix it.
MassMailer helps deal with this problem by using email authentication to ensure your Salesforce emails do not end up getting marked as spam and in turn, helps improve email deliverability.
There are three main ways MassMailer authenticates emails for optimized email deliverability:
Domain authentication: MassMailer generates Sender Policy Framework (SPF) and Domain Keys Identified Mail (DKIM) records for every email to ensure there is no 'Sent by MassMailer' tag and you can keep your brand identity intact
Email Link authentication: All the links in emails that are tracked, only show your domain address and not MassMailer's, which in turn helps reduce the chances of your emails getting marked as spam
IP Address authentication: All the IP addresses of the domain are authenticated to build trust with email service providers
Through its email authentication and deliverability features, MassMailer claims to identify over 90 percent of trap emails and in turn improve the quality of email lists.
Email template builder
MassMailer has a custom email template builder which you can use to create email templates right in Salesforce and send out your email campaigns quickly. You can drag and drop elements to create professional, responsive, and mobile friendly emails in just a few clicks.
You can choose a layout for your email template to get started. And then you can add elements to it including text, images, buttons, dividers, social media icons, videos, and even HTML code.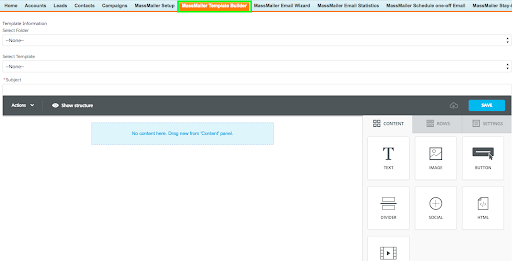 It is also possible to merge recipient fields to customize your emails even further.
Unlimited emails
As mentioned above, Salesforce only allows you to send a maximum of 5000 emails every day and the limits get reset at 12 am GMT. But that's not all. Salesforce has even more limits to it:
Single emails and mass emails don't take unique addresses into account
You can only send mass emails to contacts, leads, person accounts, or your organization's internal users
MassMailer helps bypass that limit by allowing you to send unlimited emails from Salesforce. It also claims to reduce the bounce rate by over 98 percent for all the sent emails.
Handling file attachments
You can also add file attachments to your emails with MassMailer by simply dragging and dropping the files into the email builder or uploading them directly. This in turn can help you in attaching important marketing documents or sales PDFs easily to emails that you share with your leads without any extra fuss.
Drip campaigns
Drip marketing is important for email campaigns as it allows you to send a limited number of emails automatically to your leads on a pre-scheduled time, based on the actions that they have taken. This helps you keep in touch with your leads in a more targeted and personalized way.
By using MassMailer with Salesforce Process Builder, you can create email drip campaigns along with all the customizations necessary. You can set criteria for every step of the drip campaigns to ensure the emails only get triggered when those conditions are met. It's also possible to trigger one drip step by the next.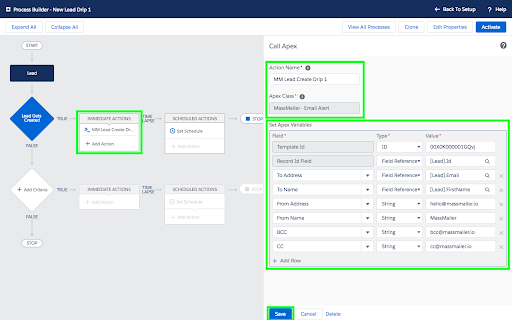 Monitoring and Analytics
MassMailer allows you to send and track emails through the Workflow Email Alerts feature. You can check the email log for activity history, total opens, and total clicks. It's also possible to track click rate, bounces, unsubscribes, and complaints.

Quality of support
MassMailer has an exhaustive FAQ section to answer the most common customer queries. The company also offers support through phone, live chat, and emails. You can raise tickets for any complaints or queries right on the website and track them directly.
Pricing
The pricing can seem a tad bit complicated at first but it ensures that you get exactly what you pay for. The pricing and the package that you choose will depend on"
The number of users in your organization
The number of emails you will ideally send every month/ year
The number of emails you want to verify
Whether you need email deliverability support, admin support, training support, and developer support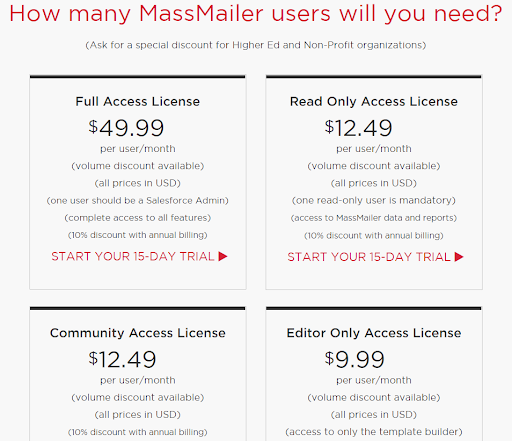 MassMailer Free Trial
MassMailer provides a 15 days free trial so if you want to try your hands on it you can start with a free trial here.
Final verdict
MassMailer is one of a kind native Salesforce app that has been carefully and specially built to go past the email limitations put up by Salesforce — which is what makes it unique. While there are other email marketing solutions available for Salesforce, they are mostly standalone platforms that also offer Salesforce integration as an add-on. But Salesforce isn't entirely their focus or bread and butter.
On the other hand, MassMailer has been built to help Salesforce users in creating powerful marketing campaigns. Its ability to work from within the Salesforce platform and easy to understand interface makes it a good investment for organizations that are already using Salesforce and want to double down on their marketing efforts.
---
---