Mailshake Review: Leverage Multichannel Sales Outreach via Personalized Emails, Social and Phone

Mailshake Review Introduction | Why sales outreach is important for B2B businesses?
Mailshake Review: Most of the B2B businesses thrive on effective sales outreach strategies. This plays a vital role in on-boarding new clients, which in turn contributes to the company's revenue.
Sales outreach works best when a multichannel approach is implemented. By multichannel I mean, cold emails, social media messaging, and phone calls.
When a business constantly stays in touch with a prospect who is interested in their product/service, the chances of conversion increase. This is exactly where Mailshake comes into the picture.
A quick background of Mailshake
It was founded in 2015 by Sujan Patel, Colin Mathews, and Robert Senoff. Its headquarter is in Austin, Texas. On G2 it has an impressive rating of 4.7/5 stars and has been awarded the G2 Leader Spring 2021.
Brands like Copypress, FundRocket, and Sleeknote are among the 49,000 customers who trust Mailshake for their sales outreach.
Mailshake Review | Who is this for?
It's not that only the sales/marketing professionals need to send cold emails, professionals of other fields can benefit by using Mailshake too.
Bloggers/SEO professionals: They can send personalised link-building request emails at scale. And we all know how important link-building is for ranking articles on Google.
PR professionals: For every brand PR activity is one of the keys to success. PR professionals can use Mailshake to create an outreach strategy to collaborate with journalists over cold emails or their LinkedIn/Twitter and get more visibility for their brands.
HR professionals: Hiring becomes a challenge when the number of inbound applications are fewer. In this scenario, HR professionals can reach out to potential candidates using Mailshake's automated email campaigns.
Mailshake Review | What can it help you achieve?
Now let's dive into its powerful features and see how you can take advantage of them.
1. Fully automated email outreach:
Cold email outreach is not easy. You need to deal with a lot of technicalities to make sure your emails are landing in the prospect's inbox. Mailshake makes your life easier as an email campaign manager by allowing you to set up outreach campaigns on autopilot.
You just design the campaign flow once with all the steps pre-decided and ready to trigger at the right cadence, like when the emails will go, when the SDR needs to call, set a reminder for a task, or a social media interaction over LinkedIn with the prospect.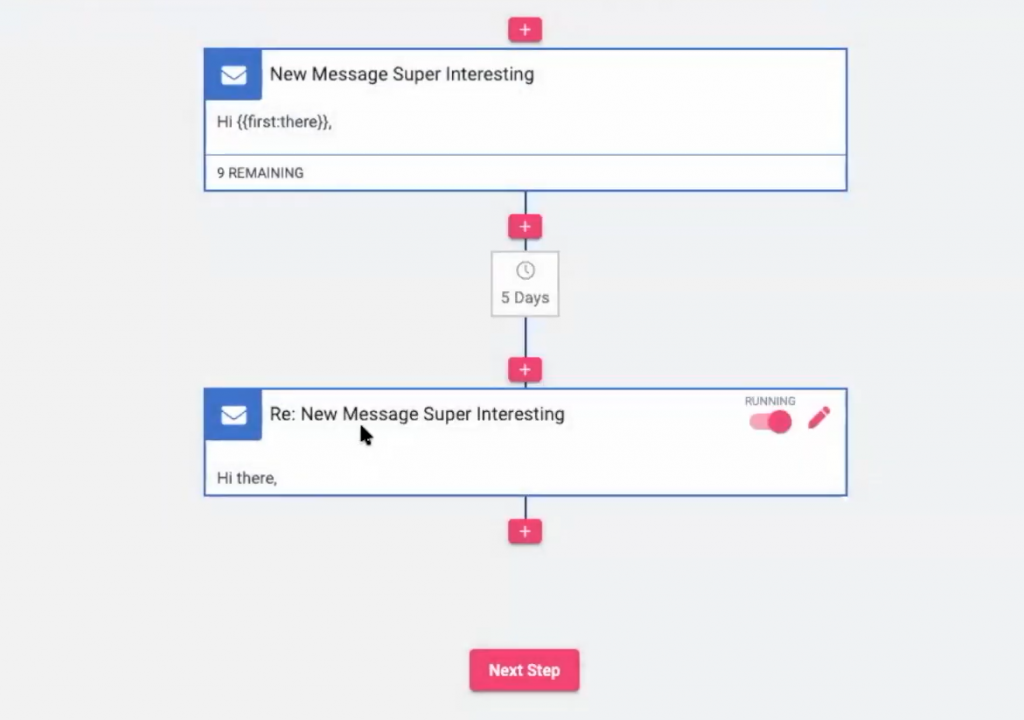 Another powerful part of cold email outreach is personalization. This is a great way to stand out in your prospect's cluttered inbox. Mailshake has this feature built-in where you can personalize your email copy and the subject line tailored to each prospect.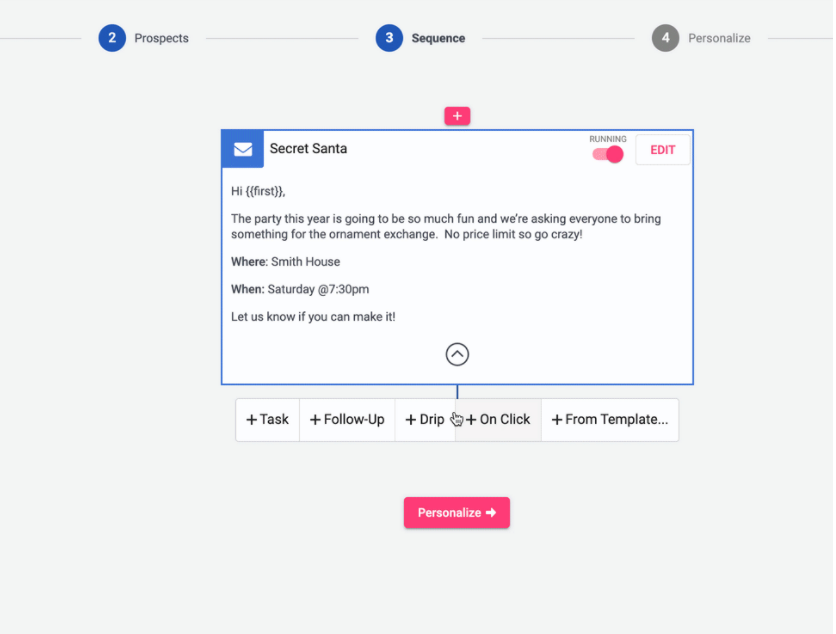 To improve deliverability and maintain a good domain reputation Mailshake removes the prospects who have either replied, bounced, or unsubscribed from the campaign. This is quite neat as you can send bulk emails with confidence.
2. Built-in email ID checker:
While uploading the prospects' email IDs, Mailshake checks them and prompts you if it finds any generic ([email protected] or [email protected], etc.) or invalid IDs. This is great as it lowers the bounce rate and improves campaign performance.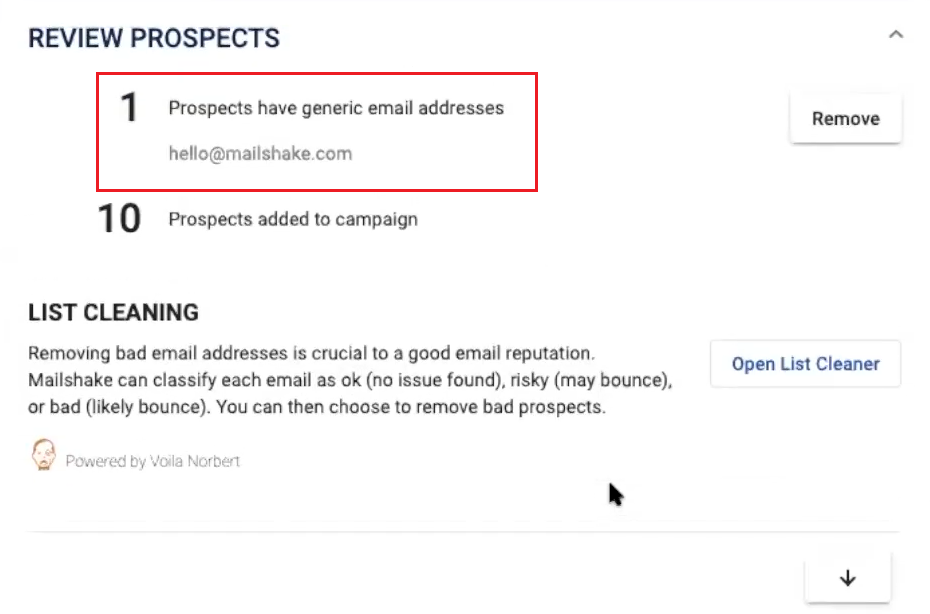 3. A/B testing:
You never know what kind of messaging will resonate more with your prospects. So it's always a good idea to do A/B testing rather than just speculating. Mailshake enables you to A/B test the subject lines, follow-ups, or even the whole campaign (all the steps including tasks, calls). In my experience, nothing can replace A/B testing. I have implemented it numerous times and I am a fan of this method.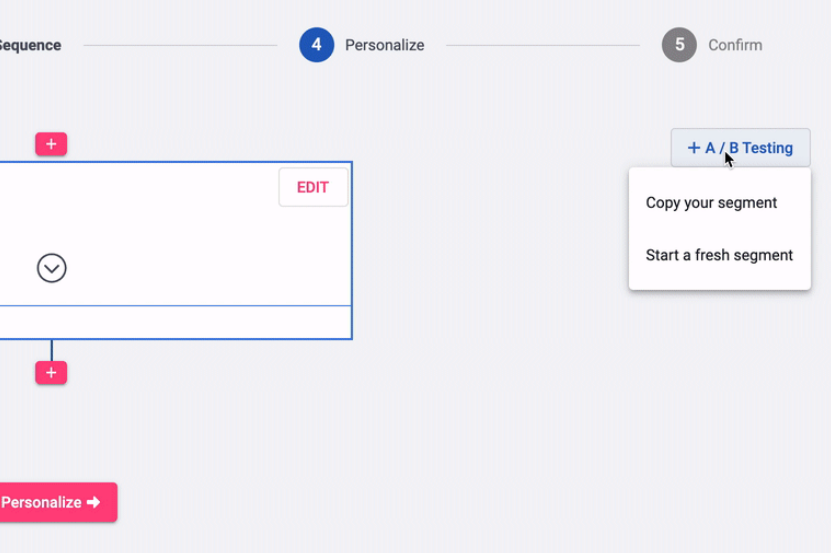 4. Dialer:
A multichannel sales outreach works wonders for any business. Mailshake has your back with its built-in dialer. With unlimited VOIP calling within the US and Canada, you could reach your dream clients just with a single click.
The international call has very reasonable pricing as well. Guess what the best part is? You can record these calls and use those to improve your SDR's future pitch, for training new SDRs, or monitor the calling activities of your sales team in general.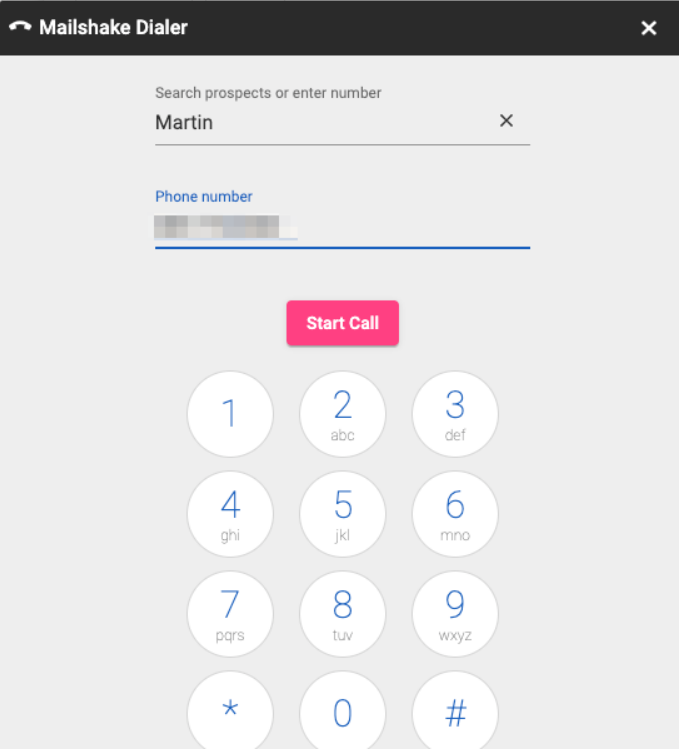 Cold calling a prospect after initial emails has proven to be a key conversion recipe. Especially if that prospect has engaged with your emails. This brings us to the next feature, which is analytics.
5. Powerful analytics:
Within Mailshake's reporting dashboard you have access to all the insights you need about your past and running campaigns. I can't stress enough how important it is to closely monitor the open rate, CTR, and reply rate of the campaigns. It not only gives you an idea of how your current campaigns are performing, but also helps you in improving your future campaigns.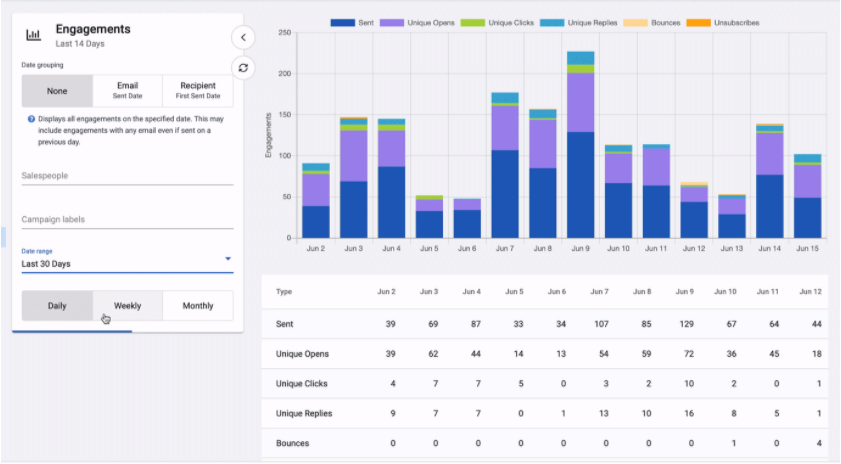 For example, if your open rates are below the industry average, you can work on your subject lines. If your CTR or reply rates are not up to the mark, you can experiment with your email copy and CTA for the next campaign.
You can see which part of the campaign sequence is converting better with Mailshake Lead Drivers.
Integrations with other applications
In sales and marketing, you can't work in silos. The most efficient way is to make all your platforms talk to each other and work seamlessly. This is where integration comes in handy.
Mailshake has native and third-party integrations with popular CRMs, calling tools, meeting scheduling tools, SMS as well as advertising platforms. Below are some of the major ones:
· HubSpot
· Pipedrive
· Calendly
· Salesforce
· Twilio
· Zoho
· Facebook
· Slack
I have personally used HubSpot and integrated it with various apps. So let me give you some use cases that can be very helpful for both the sales and marketing teams in any organisation.
HubSpot charges you on the basis of the number of "marketing contacts" you have in your account. Marketing contacts are the ones, whom you can send promotional emails to. So, it doesn't make sense to add all your cold prospects to HubSpot from the beginning.
Instead, what you can do is, set up the integration inside Mailshake, so that if the cold prospect replies or becomes a lead, then only that contact will be created inside HubSpot. Once it's inside HubSpot the marketing team can put these leads onto a lead nurturing sequence which will help in converting them into customers.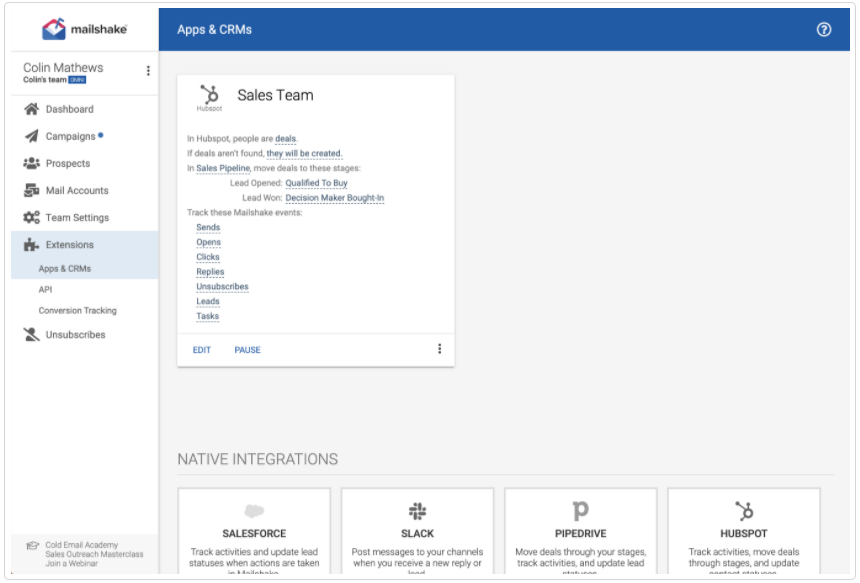 Another use case can be, you can update the deal stages in HubSpot according to the changes you do inside Mailshake. This saves time as you don't have to do it manually.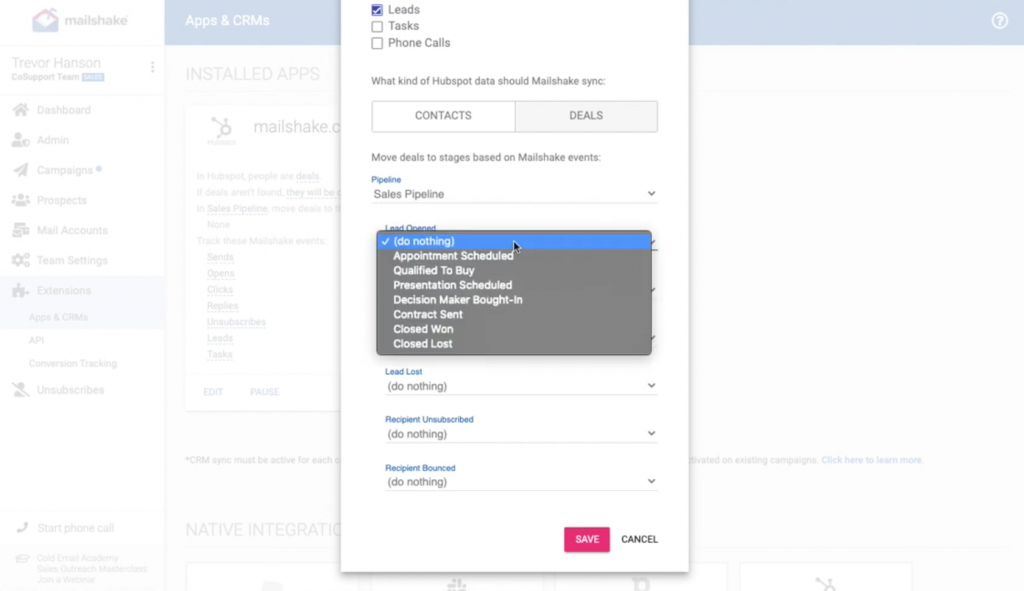 Free resources
Apart from being a super helpful sales outreach tool, Mailshake provides insightful resources to help you with the best practices of cold emailing.
Be it email deliverability, list management, writing effective cold emails, or personalization, they have detailed and free resources bundled into The Cold Email Masterclass and Cold Email Academy.
They have a huge collection of live training (webinar style) videos to help their customers get fully acquainted with the product and get the best results out of it.
To conclude, Mailshake is not just a cold emailing tool, it's a complete suite for sales outreach strategy, with cold emails, phone calls, and social media interactions within a single platform.
It has two pricing plans, Email outreach ($59/user/month) and Sales engagement ($99/user/month). For any reason, if you don't like their service, there is a 30-day full refund guarantee. So, you can take Mailshake for a spin and see how it plays out for your business, without any risk.
---
---