The importance of email verification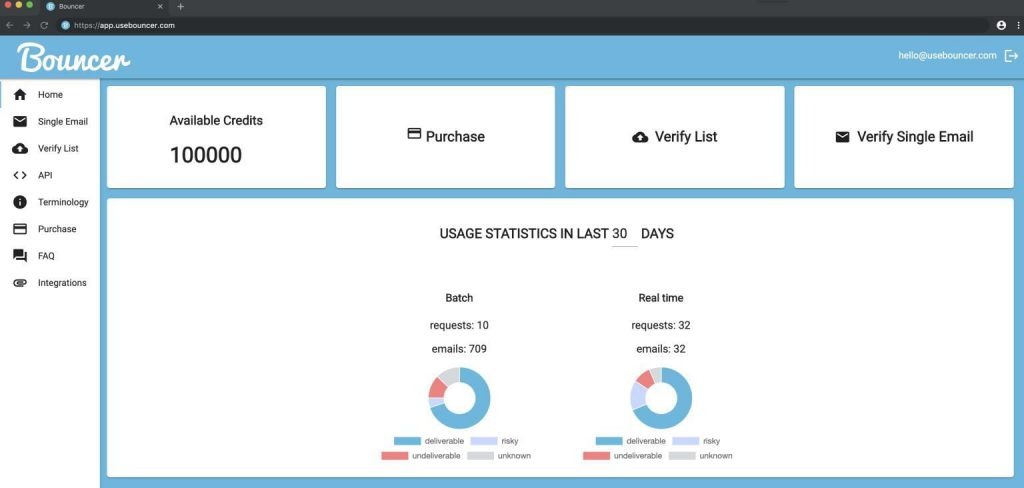 Author :
Izabela Harbarczyk
Importance of Email Verification
Email, against all mispredictions, is far from being dead, and in fact, it is still the most favourite channel for over 70% consumers, and almost 40x better at acquiring new customers than some social media channels. Email marketing plays a major role in establishing and nurturing relationships with subscribers, and that is why marketers have to have in-depth knowledge of email deliverability. You might create the most interesting campaign ever, but this will mean nothing if your emails don't even make it to your recipient's inboxes!  Email list cleaning plays a huge role in email deliverability, and therefore it is essential for the success of any email marketing activities!
Basics of email deliverability
Before we start, it is crucial that you'll understand the most important terms around email deliverability. Here you will find a short lexicon:
Bounces – are generated when a message was not accepted by the inbox for a specific reason. Bounces can be either hard or soft. 
Soft bounces – those happen when there is a temporary issue, that block the delivery like a full mailbox or the message size was too big. 
Hard Bounces – if the server of the recipient has blocked the delivery, the email address does not exist, or the mailbox address was mistyped, it will generate a hard bounce. 
Bounce Rate – Bounce rate is calculated based on all the emails sent and the number of bounces within the send out. For example, if you've sent your campaign to 2000 subscribers, and 100 of those bounced, your bounce rate would be 5%!
Sender Reputation –  is a score that is assigned by Internet Service Providers for each sender's domain, based on their sending practices. Sender reputation is crucial for your inbox placement, basically, the lower your score is, the higher the possibility of your emails landing in SPAM!
Impact of an uncleaned list on inbox placement
Your email deliverability and your inbox placement are dependable on a few factors, usually strictly correlated to your sending practices. Within those, the quality of your email list plays a major role! List of low quality generates a high bounce rate, which impacts sender reputation negatively. Every time your email bounces back, your sender score takes a hit. Internet Service Providers have implemented advanced algorithms, that monitor bounce rates of every sender, and whenever this rate passes the established threshold, such sender might get blocked from any further email communication. As over 50% of all sent emails are actually SPAM, and spammers tend to send a mass campaign to randomly generated addresses, such practices were applied to reduce the number of active spammers within the Internet. That is why it is so important to keep your list free of undeliverable emails, no one wants to be labelled as a spammer, when in fact your email communication is legitimate. 
 Instead of emailing from your own domain, you might be using an ESP to send your newsletter. Well, unfortunately, it doesn't mean that you don't need to take care of your email list! Most of the ESP's also monitor bounce rates of their users, in order to keep their email deliverability high. Therefore, within their anti-spam policies, you will find information that senders might get their accounts blocked due to suspicious activities, or high bounce rate. 
Email verification as a solution
To keep your list clean from invalid addresses, you can use email verification provider that will help you remove emails that are undeliverable. By using email checker you will not only improve your deliverability, by keeping your sender reputation secure but also will boost your engagement rates and it will help you save money! List cleaning should be a mandatory step that you take before sending a campaign, as it is as crucial for the success of your email communication as any other step that you usually take when preparing the send out. 
How does it work?
Email verification is a simple process of uploading the list to a platform, starting the verification and once completed, downloading the results. However, the verification of the email address is way more sophisticated. The email checkers will validate your email list, without sending a single message to any of the mailboxes. The list cleaning process involves multiple steps, that allows providers to establish the validity of the address:
 Verification provider will check the format and syntax of the address – it will be checked for any forbidden character, missing '@' or invalid format (i.e. iza@@usebouncer.com or iza.usebouncer.com) 
Next, it will verify the validity of the domain (the part after '@'). Email verifier checks the DNS records to see if the domain actually exists, and also if the server is set up to accept any email communication. 

The final check is verifying the mailbox address, by asking the SMTP protocol if the address is deliverable and if it will accept an email. Once the email checker receives a reply from SMTP, it analyzes it to provide the user with the final result.
 The possible results of the verification might slightly vary, depending on the email verification service you will use, however, it will usually be based around 4 statues (example from Bouncer):
Deliverable – emails in this group are valid and safe to send to.
Undeliverable – those are the invalid emails that you should immediately remove from your list, as they will generate a hard bounce. 
Risky – under this status, you will have emails that are either of low quality (like temporary emails) or of low deliverability (email address is valid, but deliverability can't be guaranteed, i.e. full mailbox, catch_all emails) 
Unknown – the server took too long to reply, or it was impossible to establish a connection. 
Additionally, you might receive extra information if the email is a role email (info@, support@) or a free email (gmail.com, hotmail.com). 
 Some services might claim that they are able to find spam traps within your list, while other email checkers believe it is impossible to do so, as a valid spam trap should be untrackable, and that only old spam traps can be identified. The truth is, that a good spam trap is not going to be published anywhere online, and the ones that are possible to be revealed are most probably already obsolete. Therefore a good email collecting approach + implemented list cleaning tasks should be sufficient to keep your email list free from spam traps. 
When to verify and how often?
When?
It is highly recommended to verify your list as close to the send out of your campaign as possible, so you will use most accurate results, and will skip eventual bounces. If you verify your email list even just a month before the actual send out, there is still a high risk of hard bounces! Please remember that 23% of all email addresses become obsolete every 12 months! 
How often?
The quick, but unfortunately, the insufficient answer is "it depends". The larger or/and older your email list is, the more often you should clean it from outdated data. The best approach would be to verify your list before every campaign, where the absolute minimum would be at least once every 3 months.
You can also support the quality of your list by implementing real-time verification at the moment of entry in your email collection form. Well executed collecting methods will reduce the number of mistyped or fake email addresses in your list significantly, and therefore will impact positively the overall quality of your list. 
How to choose the best email verifier?
Selecting the email verifier for your needs might be quite a task, as the market is packed with a variety of tools. Here you will find a few tips as what to look for when doing your pre-purchase research:
Security

– The security of your and your clients' data is probably your number one priority, therefore look for information where the data will be stored, what infrastructure is used for the purpose of email verification, and if applicable, is the system GDPR compliant. 

Pricing

– compare pricing lists of different email verifiers, and see what is included in the price. Please note that you don't have to go for the most expensive option, to have the most accurate results, however, avoid services that are very cheap or even free of charge, as they might steal and sell your data.

Trial

– some of the verifiers might provide their users with a free trial or free credits, once you will register, which is a great way to check if their platform will be easy to use!

Accuracy

– super important – if service will provide you with false results, you might be losing potential leads! Sign up for a trial, and run a test list with different providers, to check which has the best precision. 

Support

– test it! If there is an available chat or email address, write to them to check their response time! If it is taking longer than one business day to reply, skip it! 

Reviews

– check if the service is available on the review sites like G2 Crowd or Capterra, and see for yourself what their users think. 
If you will follow the above tips carefully, you will most definitely find yourself an email verification provider that will be accurate, secure, legitimate and will fulfil your list cleaning needs! 
Wrapping Up
Although often in the email marketing world, people tend to believe that the more the better, however, if it comes to email lists, always prioritize quality over quantity! Keep your list clean, to secure your deliverability and so your email communication will maintain undisturbed. 
---
You might also like: