5 Things to Keep in Mind in the Post-Lockdown Era: Using B2B Email Marketing to Announce Your New Product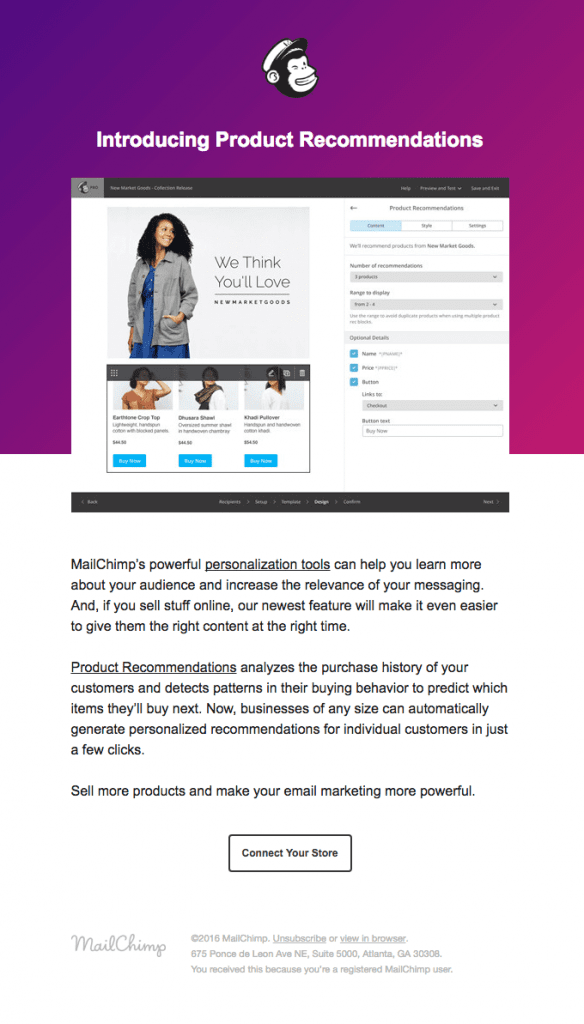 Author: Kelly Lamano

Email Marketing To Announce Your New Products Post Lockdown
Launching your new product can be an exciting time for your business and your customers. How you use B2B email marketing to promote your new products after COVID-19 will be more important than ever. Here are 5 things to keep in mind when advertising your new products in the post-lockdown era.
1) Announce the New Product Launch
Give yourself at least 1 month to preview the products ahead of the release date. Help your audience become familiar with the product. One of the most important aspects of marketing your new products is who you're emailing. Ask yourself a few questions when you're getting ready to announce the launch: Who is your audience? What state of mind are these businesses in right now? What are their pain points? Are they going to want to purchase from you, and if not, how can you gain their trust?
Email your audience once or twice a week and preview or tease the product with an engaging email. You can partner with another company to cross-promote your product, and to create excitement and anticipation.
2)
Leverage Early Testimonials
Collecting early testimonials from real businesses will help gain the trust of potential customers and show the value of your product. Post-lockdown, businesses might be more careful about what products they purchase, so they may be more apt to purchase quality products from a business with a good reputation.
At least 2 to 3 months before launching your product, select a group of businesses to test your product for free in exchange for an honest testimonial. This will help you work through any kinks in the product, plus, you can use these testimonials for your website and new product announcement.
To take the testimonials a step further, ask your trial group to leave a review for your company and your product on Google My Business. You can add this review in the new product announcement email and the review will live on Google when potential customers search for your company.
3)
Write Your Email Copy to the Decision-Making Unit (DMU)
Every detail matters in your new product announcement email, including the From Name, Reply Name, subject line, preview text, and the email body. When you're crafting your message to promote your new products, picture the DMU as the person reading this email.
An employee might find your product online or forward your product announcement email up the company chain. However, the manager, the CEO, or someone else with authority in the company will make the final decision if they will purchase your product.
Keep the DMU in mind – and even consider creating a DMU persona – to craft a solid tone, message, and email structure that demonstrates how your product can help them run their business more efficiently.

4)Capture Enticing Product Images
Make sure you have crisp, clear images for your emails whether you're launching a digital or physical product.
If you're announcing a new digital product, such as software, take screenshots, code images and animations concisely, and make sure you answer questions within the images. What is your product? Why is it valuable? How does it work? How can your audience find out more information?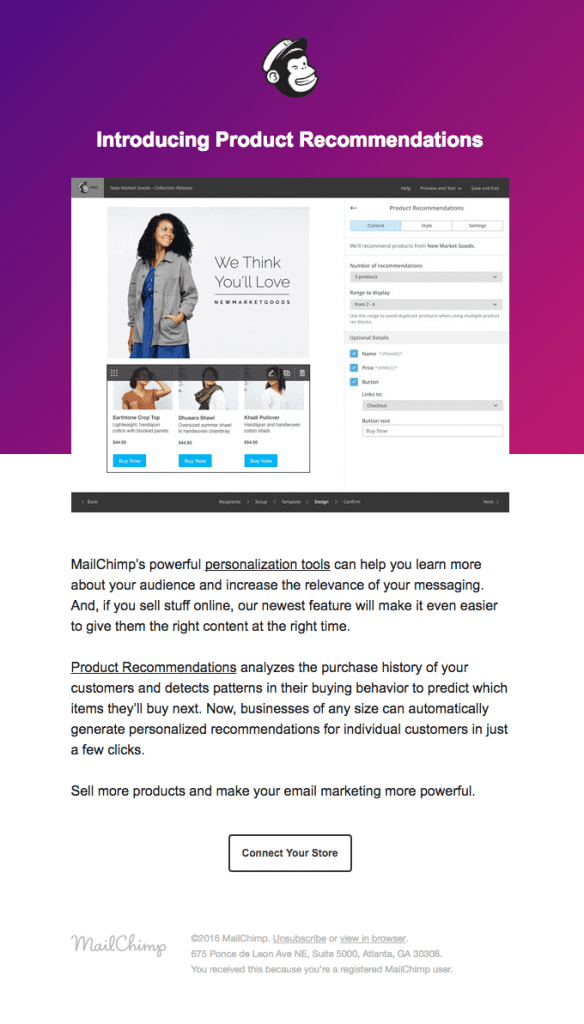 Mailchimp shared new personalization options to demonstrate how they appear in the platform's interface with a quick explanation in this email.
If you're launching a tangible product, consider hiring a professional photographer to take the photos. The photographer can take the photos as soon as you have the products available. You can ship the items to the photographer or make the items available for pickup if you work with a local photographer.
If you would rather have fun with the creativity and take the photos yourself, then photograph your products with a lightbox or stage a scene with props. A lightbox will be your best bet to photograph items with a bright, white background. These photos can be easily converted to a transparent background so you can add eye-catching imagery in your emails and on your website product page with any color background.
You can also photograph your products in the morning or early evening, just before sunrise or sunset, near a window. Natural lighting can bring your products to life, capturing the product colors and designs to make a great first impression with potential customers.

Nike and Apple teamed up to promote both brands in one product. While this is a B2C email, it's a solid example of creating urgency, collaboration, and adding clear product photos.
5)
Show the Value of Your Product and Answer Questions
Your product should offer a solution to a business's pain point. Answer common questions about your product in your email, such as what is your pricing structure for the product? What is the estimated return on investment if they were to purchase your product? Why are you the right fit for them – why should they work with you?
Continue the conversation on your website, the company knowledge base, in a case study, or with a webinar (invite the business and their employees to register to learn about the product and you'll continue to grow your email list!). You can even ask your initial group of testers what they found to be clear and what could have been clarified so that you include this information in your email.

Lyft designed a fun email showing their new product in action and described how the product works.
BONUS
This goes without saying, but once you have your B2B email marketing strategy and template in place, be sure to send tests! Check to ensure your new product announcement email performs well on mobile and desktop platforms, across most (ideally, all) email clients and that your message makes sense.
The Future of Your B2B Email Marketing Strategy Depends on You
Whether you're a solo email marketer, a team of email experts, or you're relaying this information to your team, it's up to you to optimize your new product announcement for your B2B email marketing strategy.
Connect with your audience. Grow your list organically if your business is new to the game. Build trust with your audience and show them the value of your product. Show them everything they need to know in your email and you'll be good to go with your B2B email marketing strategy in the post-lockdown era.
If you have questions about your email marketing tools, deliverability, or strategy,
contact Postbox Consultancy Services and we'll be happy to assist.