15 Tips to Improve Your Email Marketing Conversion Rates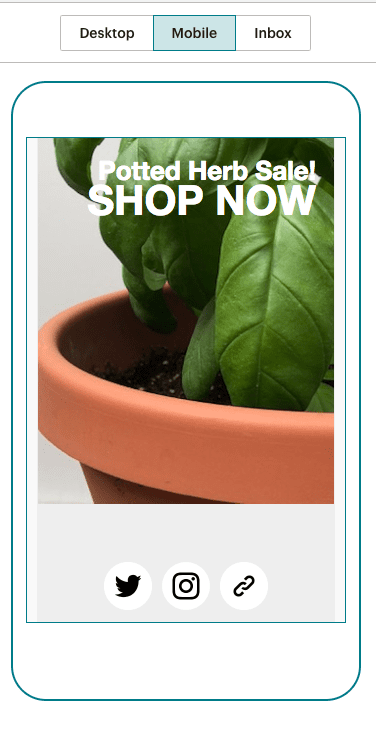 Author : Veethee Dixit
Tips To Improve Email Marketing Conversion
In the yesteryears, the marketing used to be limited to frequent outbound calls to a random customer database for marketing a particular product. Today, however, the marketing scene is more scientific and organic in terms of the use of different channels and analytics. Customers today, prefer to get relevant information over emails and notifications that are pushed to them over emails. 
There are various ways to market a product, and it has been proved time, and again that email marketing has emerged as a sure winner. We have email marketing that has become more personalized and targets a specific set of individuals through different smart campaigns.
Let us look at some tips to improve email marketing strategies.
(You might also like to check out our email deliverability checklist here)
1.

Make sure your content is mobile-friendly
Most of the people spend time on their phones. Litmus in its 2019 report showed that 42% of all emails being opened are on smartphones or tablets. So make sure your email content is mobile friendly. While making your emails mobile-friendly, ensure you use the right formatting and your template are responsive on all devices.
Optimise your images and ensure they open correctly on a mobile interface. Emails that are not properly structured tend to lose more users than gain them.  
There are number of tools available which can help you preview your email on number of devices.  Most of the template editors also has a feature where you can preview your design on desktop and mobile.
2. Keep it simple
People see things to understand them. When they don't understand or find it complex to figure out, their interest tanks and they don't follow up on it with any actions. Keep your content clean. It must reflect clarity of thought, precision on what you are trying to tell the reader, and, most importantly, it must not be too flashy. Flashy content with no substance does not attract the reader because all he sees is your marketing jargon and not what your intent behind your email is. This leads to an uninterested prospect.
3. Subject lines are the key
When an email hits a user's inbox, he or she will open it to read your content only if it sparks an interest. The first point of contact before a prospect customer opens your email is the subject line that he sees. The subject line must be a combination of exciting and easy to understand words. It also must address the needs of the customer. But it should not mislead or over-promise.  A/B testing helps to determine which subject line would perform best. 
4. Brand name matters  
Most of the time, we tend to spam or send an email to trash if we get too many emails. But do we do it with names of senders or companies that we have heard off? No. we are curious as to what the brand wants to communicate to us. So try to be a sender who has a certain degree of reputation in the market or industry. Have an excellent brand value and ensure your brand visibility is high and rotating on social media. More brand weightage you carry, the higher chances are of the user opening your emails and checking what you want to say to them.
5. Timing is the key to click rate
Your email is only good enough if it gets clicked on and viewed, if not actioned, or as we say in marketing, leads to conversion it's surely a waste of resources and at same time impacts your future email deliverability. Most people are busy throughout the day, irrespective of what profession they are employed in. Statistics show that 80%-85% of the customers access their emails from 7 pm to midnight or later than that. You have to determine what segment you are sending to and what would be the best time for this segment – early morning, afternoon, evening or later in the night. If you send an email during the peak time of the day that they are busy, it will most likely go unnoticed, and you will not get the result that you are aiming for.
6. Make sure your end-user trusts your email
When you send an email, the user has to trust  it before he opens and reads it; if users do not open gradually your campaigns would land in the spam. Low engagement would start impacting the deliverability of your overall campaigns. There are a few small tips that you can take care of
Don't use generic email ids like info@ or sales@ especially that have a no-reply prefix attached to it

Email with a person's email id from your

organisation

 or company name

Include all your social media handles at the bottom of the page to increase click rate and likeability
7. Repeat your campaigns
There is no sure-shot formula of success when you are doing something for the first time. It doesn't mean you don't do a trial and error cycle. It may happen that you have sent an email campaign, but you have not received the kind of response you were hoping for. Don't be bogged down, but rerun it. You can send the campaign back with a different twist like a change of subject line, addressing the receiver, images, call to action techniques. The second time around may give you a different result. Multiple runs will show what exactly is working.
8. Call to Action (CTA)
Humans are interactive beings. They like to be engaged even if it's at a practical level. Especially with today's world, where everything is online, email campaigns get the best results when there is a call to action or CTA included. The best of the emails fall flat when it is theory and endless reads instead of reactions called upon for the user. It is of utmost importance that you have emails that call to action to make your content interactive, fun, and enticing to the reader.
9. Testing is everything

You can plan to the last detail and execute with finesse and precision by keeping all the reaction factors in mind, but if you don't test out different approaches and theories, you will fail. Always test out what is working, what needs specific tweaks and changes, and what is going wrong. Test out with different subject lines, call to action content, image placement, the preview texts, messaging, and overall layout of the email. There are various tools to aid you to structure and test out your emails virtually, so it will be ready for when it hits the real world.
10. Content is king

In the fierce cut-throat competition of the social media world, you will not stand a chance if your content is not good. The industry goes by the rule of content being king. But what kind of content? Is it enough that content is merely right and substantial? Yes and no. Today, content cannot just be about prose, words, or long run sentences that have jargon.  It has to be a combination of interactive images, pictures, gifs, videos, and thumbnails to interact with the reader. Emails with images have a more significant response than ones who don't. 
11. Look and feel of the email
When an email is opened, the reader makes up his or her mind in a split second, whether it is appealing to them or not. Keep your email styles suave and sophisticated while not making it dull. Email texts are a sure shot way to define your writing styles and set the tone for all your emails. Stay in trend with the new textual styles but don't go over the top and do too much all at once. The texts in your email should be emotional enough to attach to the reader but not overwhelm them.
12. Don't overcrowd your content

We have discussed in the above points about how to make your email enjoyable. Inclusion of videos, texts, gifs, CTAs, etc. There is something to remember in all these actions – why you are sending these emails. Merely for decorative or click rate purposes? No. You are doing to promote your brand and portfolio. Make sure you don't do too much and don't give your logo and services the visibility that they truly deserve.
13. Use of autoresponders
The use of autoresponders is good practice, especially after a user has subscribed to your service. Send them emails reminding them of their subscriptions. Include some new updates, offers, related content to what they have been looking at. It knows they are being taken care of. Repeat autoresponders on a frequency of 5, 10, and 15 days.
14. Avoid redirection

There are many times you come across an email which redirects you to their website, makes you sign up, verify the mail, sign in, and then action what you were looking for.  Avoid it completely. 90% of the users will give up the minute they are being redirected to a website for sign up. Your CTA experience should be simple, quick and enjoyable.  Though you may follow up later.
15. Personalise

People like it when they are given importance. We are high on vanity as human beings. Personalize your emails with the recipients' names, which should be shown in a small preview text in the email. Send them emails for their birthdays or anniversaries to bond better and give them offers and goodies once in a while. 
Summing It Up      
A good email content, newsletter or banner, whatever we may call it has no sure formula for it to be successful. Keep your emails sophisticated, relevant, value-adding, and interactive. It should be a burst of fun, comfort, beauty, and engaging to your reader.
If you need any consultancy around setting up your email campaigns Postbox Consultancy Services can help.  We have a team of experts who can help with copy writing,  auto responder analysis and setup, managing your lists and campaigns.