Smartwriter Review: Improve cold emails deliverability with AI based personalisation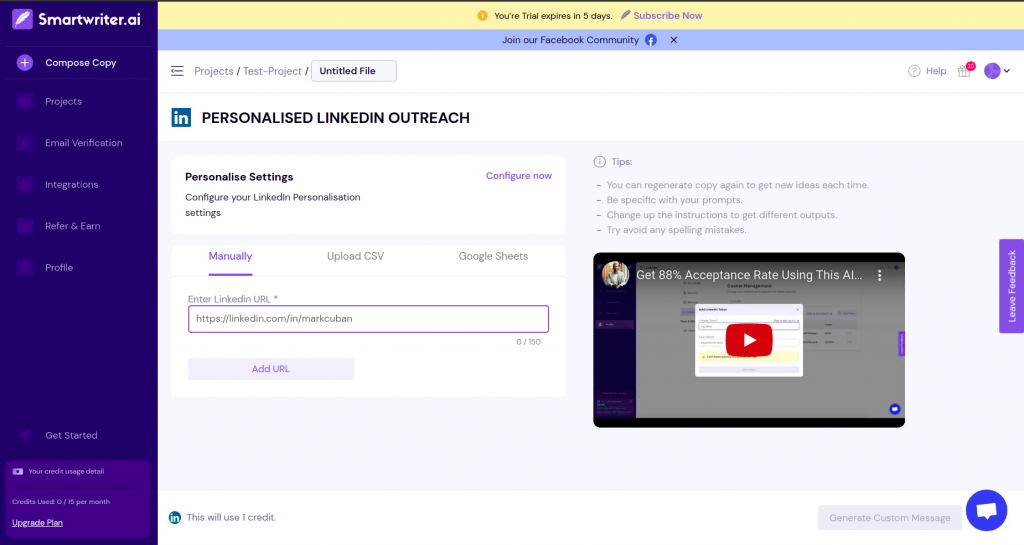 Importance of Personalisation in cold emails
If you are looking to scale your lead generation efforts using cold emails but struggling with email deliverability read this Smartwriter review where I will cover some innovative AI-based features of this amazing tool to personalise your email copies using prospect's Linkedin data.
We are regularly approached by many companies who are struggling with the deliverability of cold emails. Most of the B2B service and consultancy companies rely on cold emails for lead generation and it's unfortunate for them to find that even when they send a small number of cold emails they land in spam. This is a big setback in their lead generation efforts.
Postbox Consultancy Services has given consultancy to many such companies and helped them to improve open rates of cold emails up to 75%. The basic things which help to improve the deliverability of cold emails are:
Good research on your leads
A super personalised email copy
A cold email tool properly set for inboxing
If you are a beginner in cold emails our recently published Cold Email Guide can be a great resource for you.
If you wonder why personalisation is important to improve deliverability read this article by Cathy from Woodpecker
I know of many companies that have separate teams of sales representatives to work on personalisation of each cold email copy – but not everyone can afford it.
Today we bring you an innovative AI tool that can help you with personalisation of your cold emails and in turn, can help to improve your email deliverability and open rates like magic.
Smartwriter is a personalisation outreach software, it crawls the internet to find unique data points about your prospects and create a unique message you can send to them. Smartwriter creates ultra-unique icebreakers using customer data such as their LinkedIn profile, bio, job description, and recent activity.
Smartwriter has many features which are listed next, we will focus on cold email personalisation using "Personalised Linkedin Outreach".
Smartwriter Features:
Personalized Cold Email Outreach
Automated SEO Backlink Outreach
Personalized LinkedIn Outreach
Find Email and Verify
AI Content Generator
SEO Friendly Article
Find and Verify Emails
Smartwriter Pricing
Smartwriter comes with three plans: Basic, Popular, and Pro.
Basic: $59/month, 400 Personalisation Icebreakers.
Popular: $149/month, 1200 Personalisation Icebreakers.
Pro: $359/month, 3500 Personalisation Icebreakers.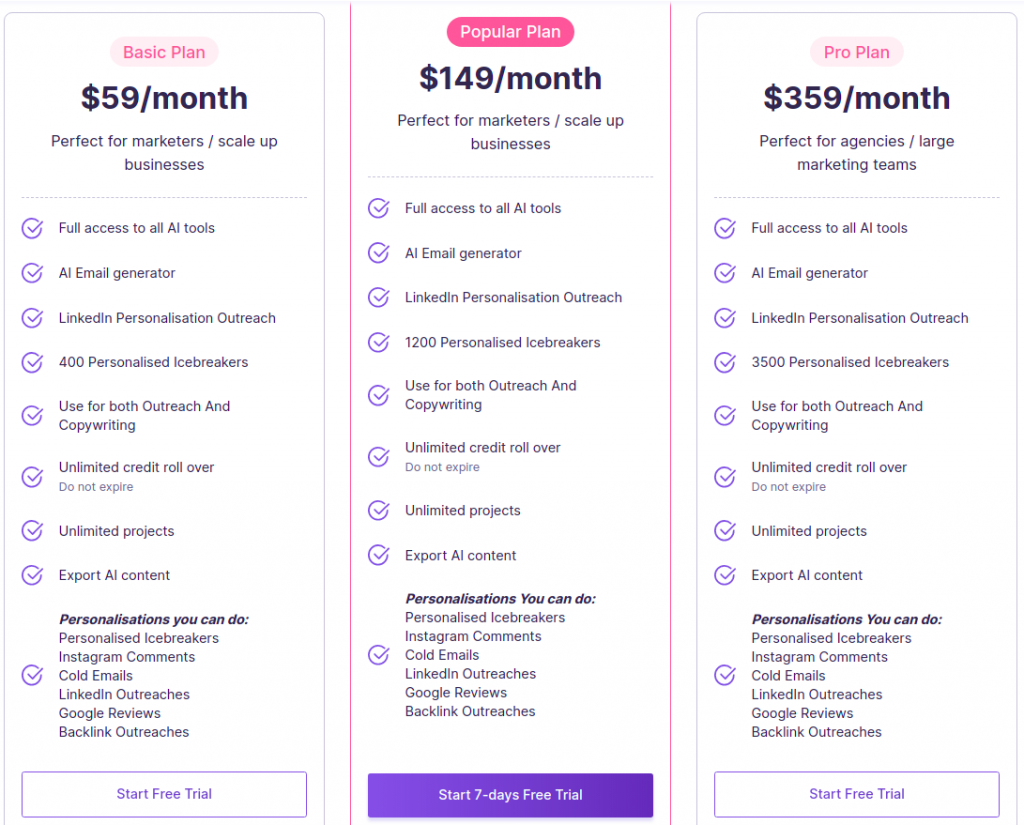 How to signup for Smartwriter
Go to their signup page and enter your details. You can start with a 7-day free trial and upgrade to a paid plan on completion of the trial.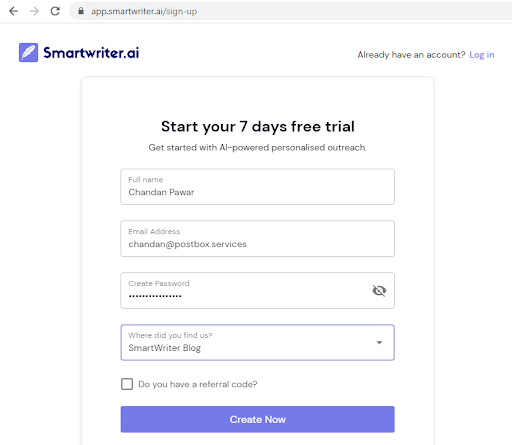 As the last step to activate your account you will need to verify your email address by clicking on the link you got in an email from Smartwriter.
Smartwriter Dashboard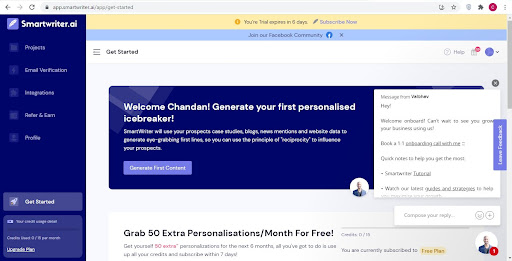 Personalised Linkedin Outreach
This feature enables you to create a personalised note using your prospect's Linkedin data which can be used as an icebreaker opening line in your cold email.
Step 1: Go to Projects from left menu and create a new project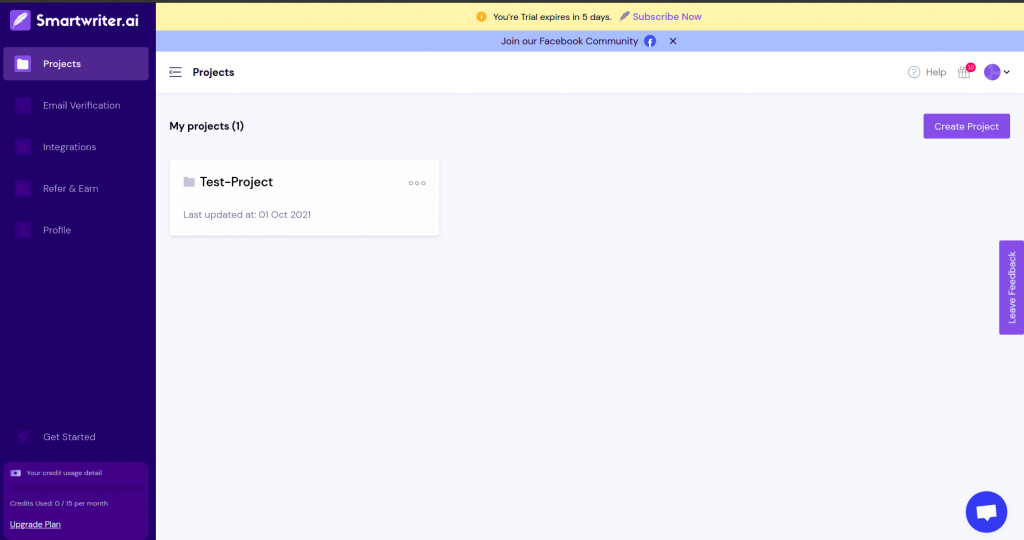 Step 2: Once the project is created go inside the project and click on "Personalised Linedin Outreach"
If your prospects do not have a good LinkedIn presence you can try other options.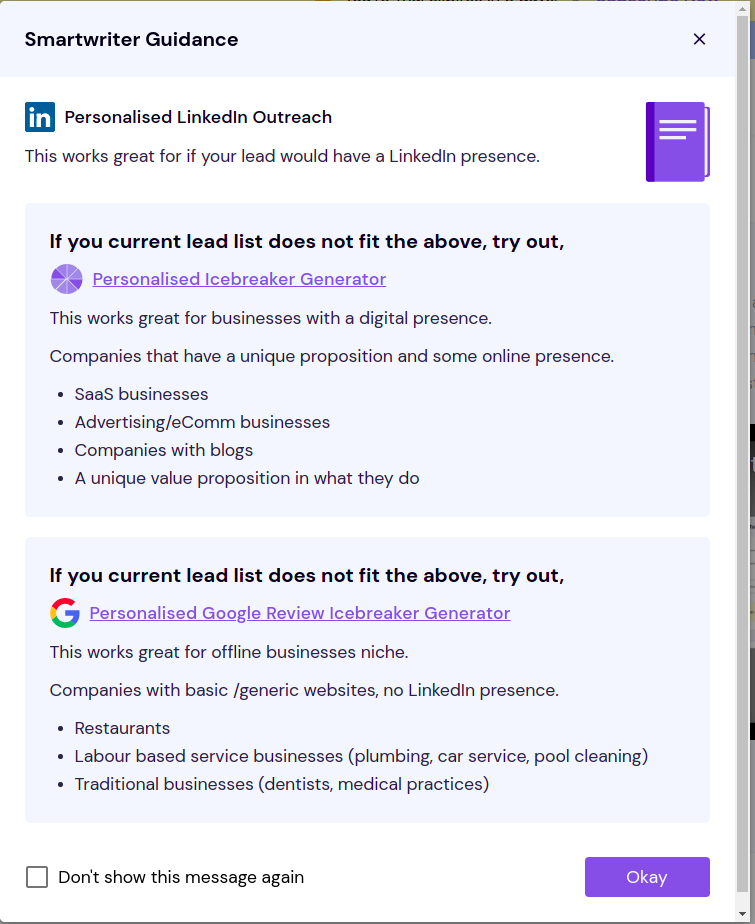 For Linkedin outreach purposes just click on "Okay".
Step 3: You can configure Smartwriter to create Linkedin personalisation using prospect's LinkedIn recommendations, personal bio or job history or a mix of these options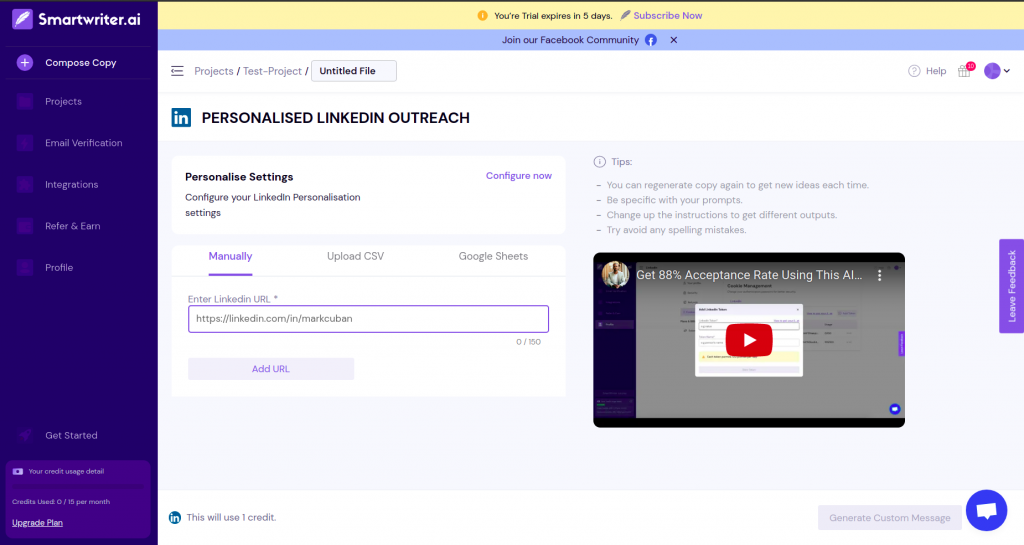 See the "Personalise Settings" section and click on "Configure now". On the next pop-up screen enable the personalisation options you need.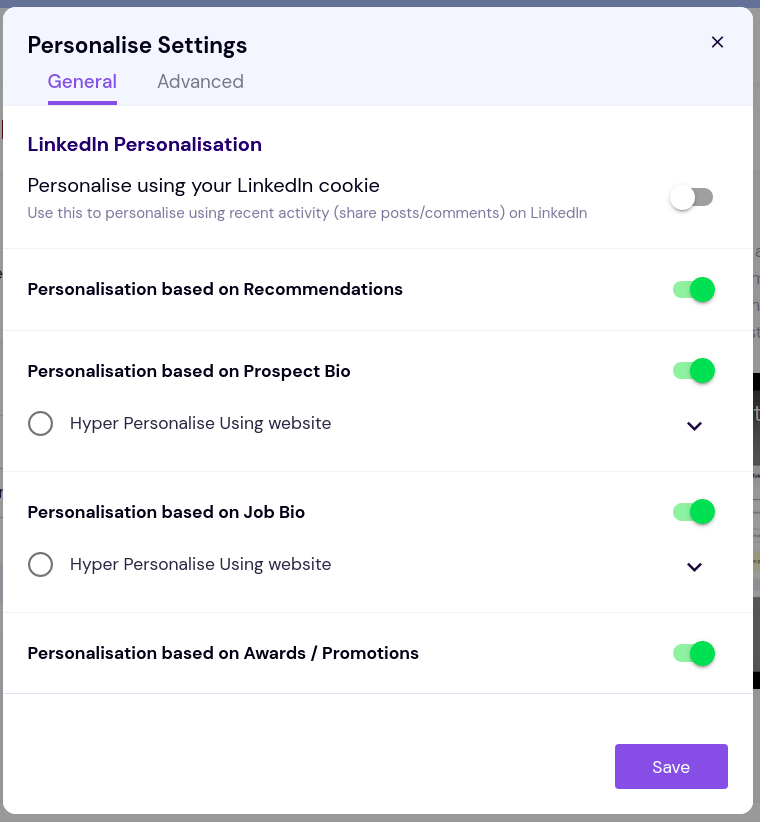 Step 4: In the next section, you will have option to manually fetch the details from a single Linkedin profile or to upload a CSV file with multiple LinkedIn profiles
Let's give it a single Linkedin profile URL and click on "Add URL" and then click on "Generate Custom Message"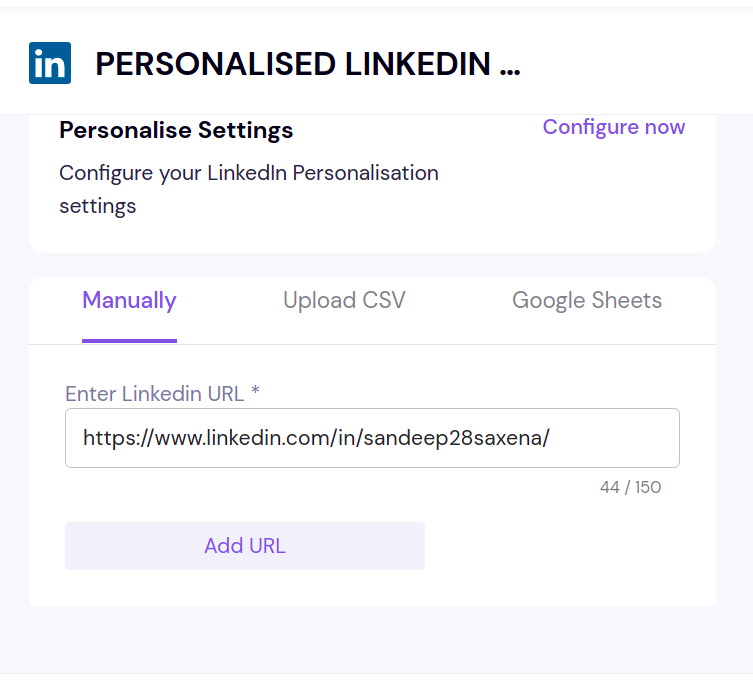 Smartwriter will take will few seconds to create a personalised note on the basis of the options you enabled earlier.
Personalisation on the basis of the current job description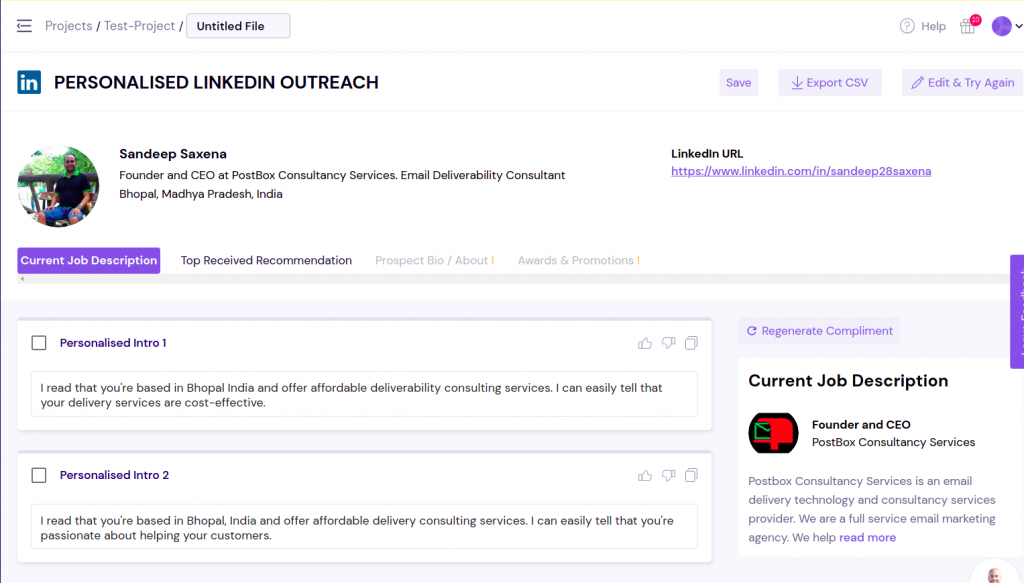 Personalisation on the basis of recommendation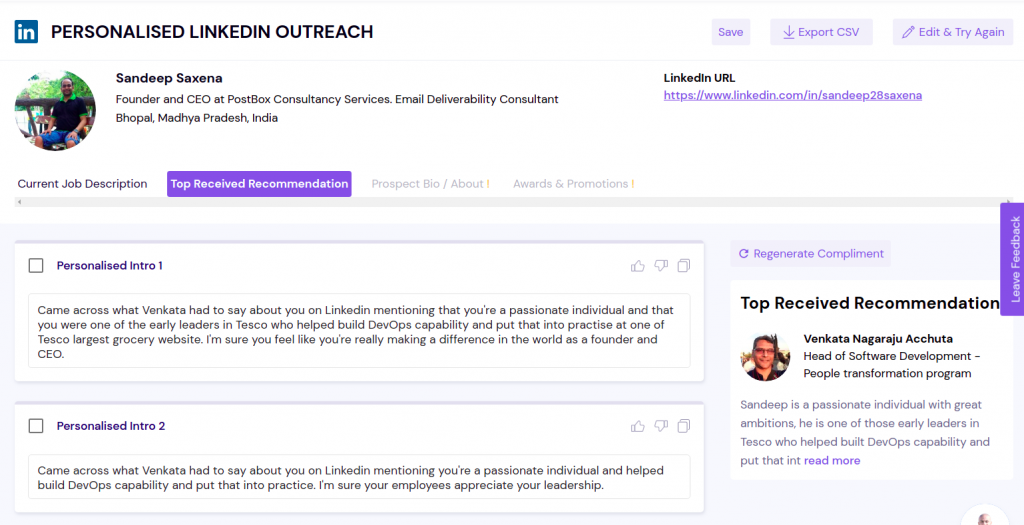 If you have uploaded a CSV file with many Linkedin profiles you will be able to export the output CSV file with personalisation done for all prospects and this way you can easily scale your personalisation efforts.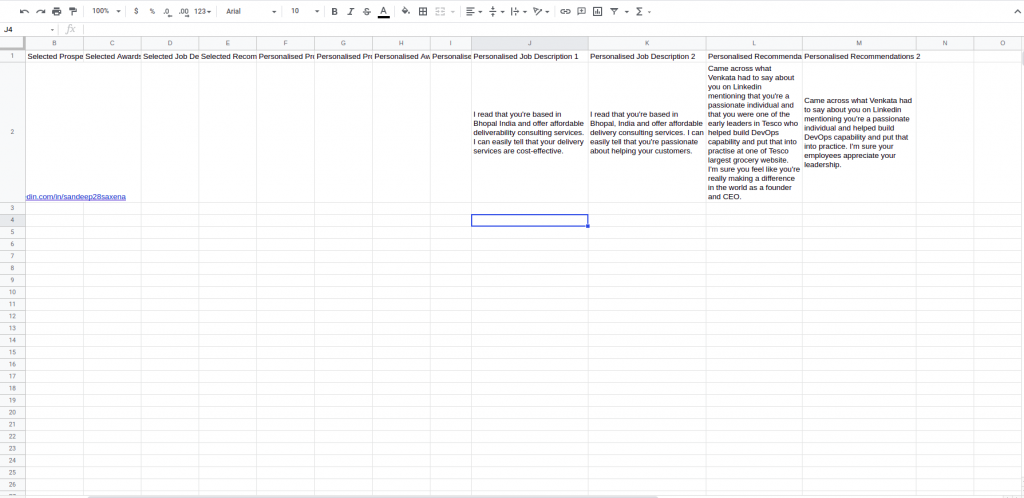 Now you are ready to use these personalised notes in your cold emails. Smartwriter provides you integration features with some of the popular cold email outreach tools. You can also integrate it with Google sheets and then you can mail merge the personalised note in your cold email tool – an example of mail merge with Google sheet from Gmass is here.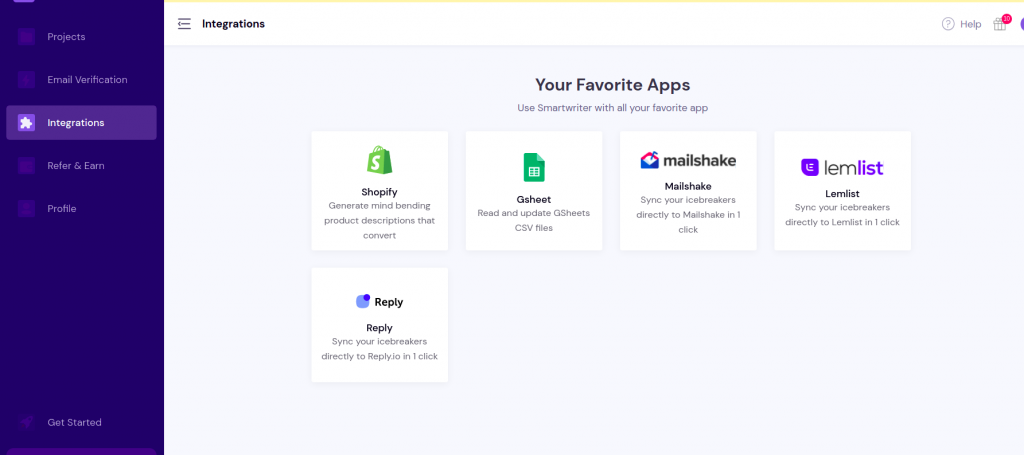 Now let's watch this video tutorial from Vaibhav which recaps everything:
Smartwriter Review Conclusion
Personalisation is the key to improve the deliverability of your cold emails. It also helps you engage your prospect at an emotional level by giving your email copy a personal touch and that helps in higher conversion rates.
Smartwriter is an easy-to-use and easy-to-integrate tool that can help you scale your personalisation efforts in a very cost-effective way. It is a must-have tool for your lead generation efforts.
Hope this Smartwriter review helped you to understand the tool's capabilities and features.
---
---