How to Start Preparing for Black Friday Email Marketing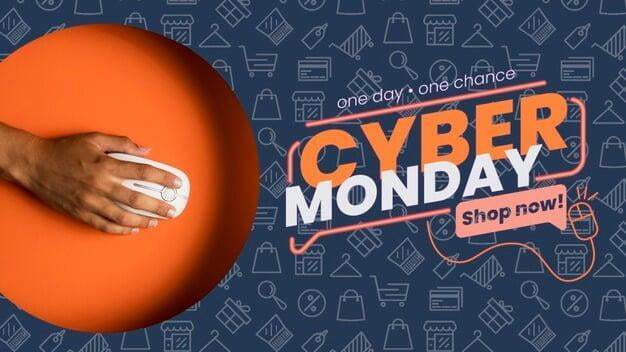 Author : Ashley Kolpak
Black Friday Email Marketing
It seems as soon as the calendar flips to October 1, the number of email marketing newsletters increases at a dizzying pace. One of the biggest holidays for ecommerce is Black Friday, as well as Cyber Monday. Brands that do business online know how important it is to reach out to your customers with an exciting offer or deal. 
Black Friday communications saturate the customer inbox, so it's important to craft email campaigns that stand out. Knowing your audience can go a long way when your email is fighting to get noticed in the sea of "Get 20% Off Today!" coupons. Claim your Black Friday bounty by getting ahead of the game and preparing for success when it comes to Black Friday Email Marketing.
Gather Your Email Marketing Promo Content Early
Where to start? A great discount is important for staying competitive in the holiday inbox landscape, but there more you can offer your online customers something that is interesting or meaningful to them, the more likely you are to see conversions roll in this November 29.
If you are working on email campaign setup in house, set aside some time to optimise the content you want to use. One of my favourite inspirations for copy-writing is this: every single word should do a job, and if it's not doing its job — it's time to fire it. Make sure your copy stands up to the test. If you're worried about the new design of an email, test it out before its larger Black Friday debut. Stretch your A/B testing skills. You can drop hints of your big promo by sending out to a smaller, more engaged segment to understand their behaviour before letting loose to the whole list.
If you are working with high-priority partnerships, now is their time to shine. Create opportunity for your most valued clients with a special spotlight promo. Getting all of your ducks in a row ahead of time takes the stress out of pressing send. Think about your goals for the campaign: a jump of sales, of course, but this is also a chance to test out bold new designs and imagery, and because you are likely hitting your entire audience, gathering new data on how they interact with your brand will pay dividends all year long in 2020.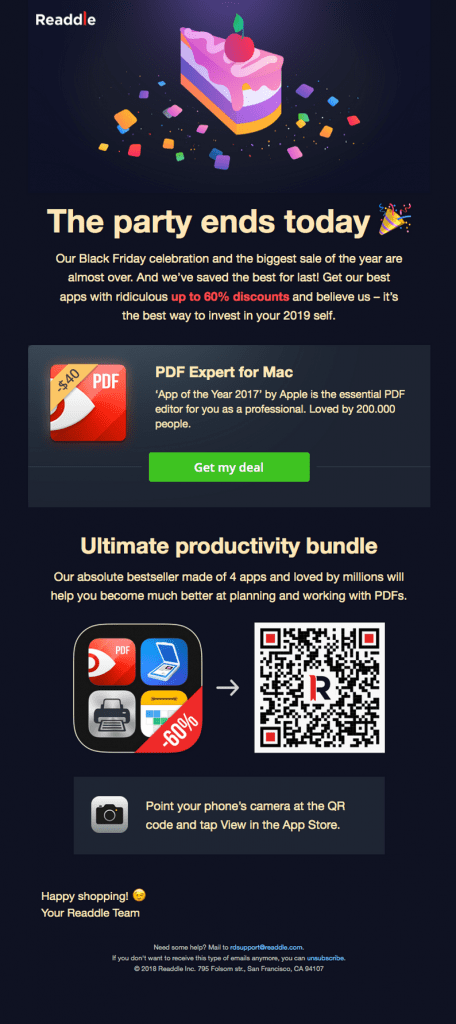 Stand Out from the Crowd with Creative Messaging
Like I said before, when your customers have an inbox filled to the brim with non-descript "Take such and such percent off!" subject lines, it's easy to blend into the background. If you're a savvy email marketer, you likely have a few emails saved that serve as inspiration. What draws you most to them? Is it that subject line infused with undeniable personality? Is it those eye-popping images, the introduction of dynamic text? If you plan ahead, you have time to develop the email of your dreams, whatever it may be.
Simple, engaging designs win the day. If you're struggling with an image taking too long to load or wondering if that
GIF really needs to be in that email
,

scratch it. However, if your audience engages well with your company's video content regularly, video in email is probably the route to go.
As with anything in Email Marketing, go with the data. Use the trends you've gathered from the year to create an email that brings them together. Don't forget that discount, but don't forget the power of 
creativity and authenticity.

Use the holiday season to surprise and delight your customers
"Surprise and delight" is a popular User Experience design term for a reason. For companies that are truly customer-centric, finding ways to wow customers is way more than a buzzword. When you are planning content, this means personalization. As we know, personalization extends way beyond inserting a first name into a custom field. If you have data on how much your user uses and loves your product, share it with them! Customize their Black Friday deal based on past purchases.
Why not use Black Friday as a chance to celebrate your customers? Apply a discount as more than a marketing tactic – embrace it as an opportunity to reward customers for their loyalty. Make their year in review something to remember. If your company or organization is in the position, make it an opportunity to give back to customers. Partner with local charities to mix commerce with a heaping helping of gratitude.

Steer clear of the spam folder: here's how
Now, you have the perfect message, the coding is complete, and you've got a week to spare before the Black Friday deluge. However, what good is sending an email if it doesn't make it past the spam filter? Like I talked about earlier, holiday emails often fall prey to batch and blast — because they are typically pretty generic, it's easy to skip typical email best practices and send to all of your opted-in users that may or may not be expecting communications from you.
To avoid a Black Friday or Cyber Monday deliverability disaster, there are a few simple steps you can take when you are configuring your send during your email platform setup. Email list hygiene is the unsung hero of deliverability success. If you have 1 million subscribers and 750,000 haven't opened or clicked on an email in over a year, your list isn't nearly as valuable as you think. If you're looking at a list that hasn't been updated in a while, establish criteria for cleaning up the unengaged subscribers. This can depend on a few variables, such as product life-cycle and how often you regularly interact with the list. Again, take advantage of this in your platform set up. Use suppression lists and throttling as necessary. Sending out too many emails at once can also hurt deliverability. Moral of the story – be thoughtful about who you are sending emails to, and how many are going out at a time. Understanding deliverability can be (and often is) a full time job. Getting into customer's inbox is the main concern of an email marketer. Diving into a deliverability audit is extremely helpful in understanding why messages go to spam. Certain mail-boxes are very sensitive to words and phrases (we're looking at you, Gmail) and any broken links in an email will cause problems for in-boxing. To understand more about where your company stands with deliverability,
Postbox Consultancy Services
email deliverability audits will give you a clear picture, and how to proceed with best practices.
Stay true to your brand and reap the rewards
I've talked about standing out from the crowd, and that's important. However, staying consistent with your brand and keying in to what your customers engage with most about your marketing savvy and flair is the best way to prepare for Black Friday Email Marketing. Campaigns like REI's "Opt Outside" initiative is a great way to stand by your brand values while creating a meaningful conversation with its customers.

The sea of mass marketing centered around American Thanksgiving can be overwhelming. By thinking about what aspects of your product or service is most appealing to customers, flexing your creative muscles, preparing for deliverability success with tools such as an email deliverability audit or perfecting your segmentation rules and then sending out a message with a clear call to action, you're Black Friday email campaign is poised to win this holiday season.
---