How To Land In Gmail's Primary Tab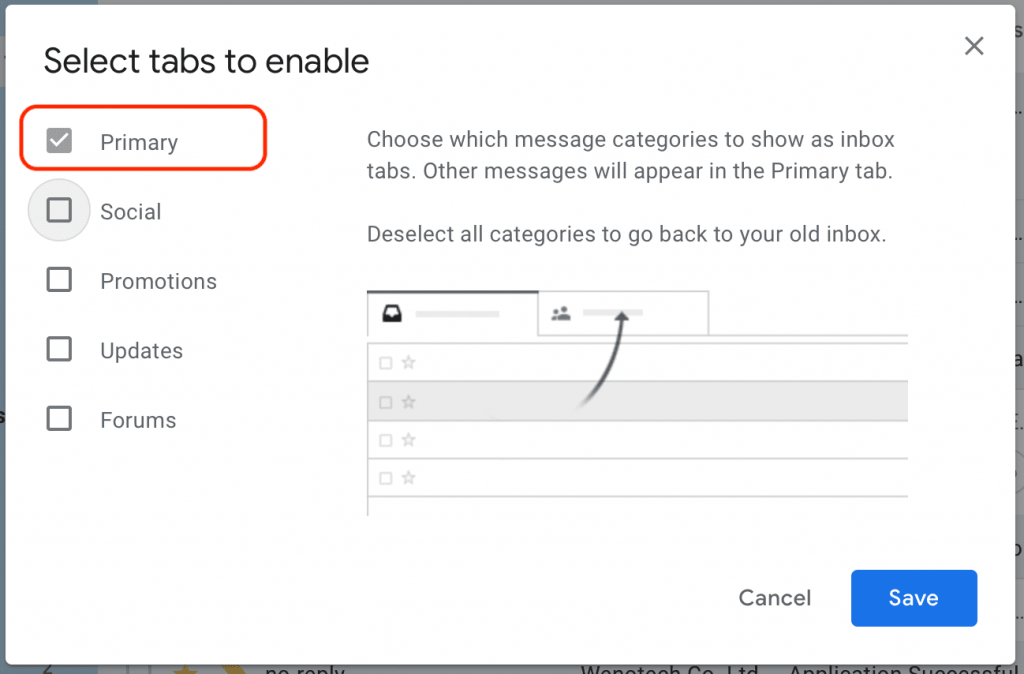 Author : Veethee Dixit
An email marketer's worst nightmare came true when Gmail introduced multiple tabs. As a result, emails from marketers started landing in the Promotions tab. It's terrifying to even think of how this update would affect the open rates of emails as marketing emails do not land in gmail inbox primary tab.
Recipients check the Promotions tab with less interest. Let's face it, no one wants to be sold anything. Email marketing is all about building relationships and pitching after a sufficient level of engagement. Even though the deliverability issues in email marketing are rampant, there is no need to give up. Low click-through rates cause many email marketers to quit only for others to take advantage of it.
Think of it this way. Instead of losing hope, it's clear that the competition in the receiver's inbox is far less than it used to be. So, if you use the algorithm update to your advantage in the correct way, the open rates will, in fact, increase. On that note, we're going to take a detailed look at how to land in the Gmail Primary tab. But before that, we are going to check out what each tab means and how you can improve deliverability despite updates.
5 Gmail Tabs Helping Users Organize Their Emails
The new inbox has enabled users to organize their emails according to the category. But somehow, most users seem to be put off by the Promotions tab. In the later section of this article, we are going to take a detailed look into how to land in the Primary tab. But before that, we will check out the five different types of tab and their use.
1. Primary Tab
The Primary tab is a place for non-classified emails and those from the receiver's contacts. Users allot the highest priority to the emails that are a part of this tab.
2. Social Tab
The Primary tab is a place for non-classified emails and those from the receiver's contacts. Users allot the highest priority to the emails that are a part of this tab.
3. Promotions Tab
All newsletters containing heavy HTML and automated digital marketing emails land in the Promotions tab.
4. Updates Tab
All email notifications that provide information about bank statements, bills, and seek confirmation are a part of the Updates tab.
5. Forums Tab
If the user is a part of an online forum, discussion board, or community, the emails from these land in the Forums tab.
Even though users loved the tab inbox update, marketers had a hard time coping up with the declining campaign performance.
Geek Tip: From Google's point of view all of these tabs are inbox and can be added or removed from settings.
References : Add or remove inbox categories & tabs in Gmail
Actionable Ways to Land in Gmail Primary Tab
A study on Gmail tabs by Return Paths suggests that 33.8% of Gmail users sort their email through tabs. 60% enabled the Promotions tab and about 45.1% of users check it once a day. Keeping these statistics in mind, let's take a look at some actionable ways to land in Gmail Primary tab.
1. Make email marketing a value delivery channel
Most marketers consider emails only as a means of promotion. But to gain people's attention, it's important to deliver a high level of value via email. Users consider the inbox as their personal space. If you offer them exclusive content providing unusual benefits they will stay hooked to your offer.
When you focus on offering value are the chances of landing in their Primary tab become high. It also helps in combating spam complaints and prevent users from clicking the unsubscribe button. Another great way to offer value is to build your reputation as a sender. If the email is coming from an authentic source, users are likely to think twice before ignoring it.
2. Use light HTML and plain text in your emails
Emails loaded with heavy HTML are the most prone to landing in the promotion step. Gmail identifies HTML emails as automated and pushes them off the Primary tab. The key is to send out either plain text emails or keep as few links as possible. A general rule of thumb is not to go beyond one or two links. Also, avoid using spam trigger keywords such as free offer, make money, get paid, and so on that could get you tagged as spam.
3. Encourage your subscribers to add you to their contacts list
The best way to boost your chances of crawling into the Primary tab is to encourage subscribers to add you to their contact list. Another method is to prompt your users to mark your email as important. Or even better, provide so much value that their first instinct is to click on the flag icon that marks your email as important. This gives Gmail the message that your subscribers value your emails and wish to see more updates from you.
Another way is to ask users to drag your emails into their Primary tab when it lands in the Updates tab. If they drag the first one, the chances of the follow-up emails landing in the Primary tab are higher.
Whatever you ask your users to do, make sure that instructions are crystal clear. Last, but not least, advise your subscribers to check the Promotions tab as well as the spam folder regularly in case you land there.
4. Enable a high level of personalization in your emails
Personalization is a very obvious means to increase your click-through rates. But it goes beyond just the receiver's name. Besides using the receiver's name, it's important to personalize the content of your email. You can consider adding contextual data apart from the name to the subject line.
The content of the email body should really be unique to the person you are targeting. This will prompt Gmail to see a substantial difference in the content you send out. This will decrease the likelihood of an email being classified as promotional.
5. Send out emails individually or in small batches
Bulk sending of promotional emails can turn out to be your enemy even if this feature was supposed to simplify your life as an email marketer. With new updates by Google, avoid sending all your messages at once. Even if they offer value, bulk email sprees can put Gmail on the alert mode. Break down your recipient list and send across important emails over a span of a few days.
Final words
No matter how much value you are trying to provide through your email, customers are unlikely to come across it unless it lands in the Primary inbox. With email marketing becoming more competitive with each passing day, keeping subscribers engaged and convertible takes calculated effort.
As long as you are offering striking benefits to your receivers, they won't mind seeing you in their Primary tab. You can achieve that by following the above-mentioned steps and watch them boost your click-through rates.
---